Something I've seen on the E7 taxisand I've always wanted was those air brake deflectors that stick to the front doors and deflect air away from the sliding doors.
I was at a scrappy the other day and lo and behold they had a pair! £20 and they were mine.
They were white, and I've had my first go at spray painting - primer, paint and lacquer. Looking reasonable now so it's time to stick them on.
But I don't want to ruin the paint on the door. How can I attach them, without making a mess of the door if ever I choose (or have to) take them off in future?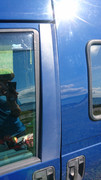 ---
2000 Citroen Dispatch 1.9TD XUD9 Camper Conversion + full time home
1999 Citroen Dispatch 1.9D DW8 Disassembled Camper Conversion
1996 Peugeot 806 1.9TD XUD9 Spare vehicle
1998 Citroen Synergie 1.9TD XUD9 Snapped timing belt